News: Conveyor


• Home
• Corporate Facts
• Contact Us
• FAQ
• Information Request
• Links
• News
• Services
• Sitemap
• Privacy & Terms

<< Back

2005 Articles
• Transwheel
• Cartonflo
• Conveyor
• Robot Wheels

2004 Articles
• 2004 News
---
---
Kornylak Manufactures Conveyors For A Variety Of Applications
February 18, 2005

Kornylak Conveyor Systems

The Kornylak Corporation manufactures a variety of conveyor systems that improve productivity for manufacturing and material handling. Kornylak offers a selection of styles and types for a multitude of applications such as: belt, roller, vertical, gravity, heavy duty, lightweight, oven, cooling, and drying.


Armorbelt® Steel Belt Conveyors

The versatile, rugged, dependable design of Armorbelt allows it to be use as a horizontal, inclined, or vertical conveyor. Armorbelt's ability to handle almost any conveying job well is proven by its successful installation in manufacturing where it is used as a heavy duty, oven, cooling and drying conveyor.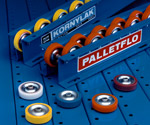 Palletflo® Gravity Conveyors

Palletflo is an accumulating, live storage pallet conveyor that uses gravity as its power. Palletflo saves you time and money because it requires no maintenance, no adjustments, no power and no control system. Palletflo is able to accomplish this because it uses polyurethane tires that are able to control the flow of pallets along the entire length of the gravity conveyor.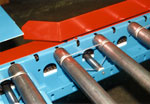 Twistless Shaftless Powered Roller Conveyor

The Twistless Shaftless (TS) powered roller conveyor combines the high torque positive drive of chain driven live roller with multi-roller drive efficiency of a line shaft. The TS utilizes a chain driven sprocket that increases the torque of each drive roller allowing this positive drive force to transfer across one or more rollers.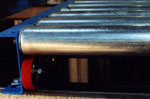 Rollerflo® Roller Conveyors

Roller is able to handle plastic pallets, and wooden pallets with very few and or extremely narrow runners as well as a wide variety of sizes and shapes of loads. Rollerflo is a gravity powered roller conveyor with a difference. Each roller can be mated with a Palletflo urethane coated sake wheel. These wheels utilize the hysteresis control principle, which enable pallets to move under control down the length of the gravity roller conveyor.



Vertiflo® Vertical Conveyors

The vertical conveyor Vertiflo is the finest compact, high speed, dependable and versatile unit available. With models available to handle loads from a sack of potatoes up to 3,000 pounds pallets in a high-speed continuous stream with a choice of manual or automatic loading and unloading in both directions.



Monoflo® Lightweight Screw Conveyor

Monoflo is a simple inexpensive screw conveyor for transporting light loads. It consists of a flexible, lightweight cable with hardened steel screw threads, which rotates in a metal rail.

Zipflo® Lightweight Belt Conveyor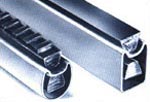 Zipflo's small belt size makes it exceptionally lightweight in relations to its load carrying capacity. Zipflo can move a wide range of types and weights of loads at a standard speed of 60 to 90 feet per minute.





---