Transwheel®


<< Back
• Cat-Trak
• 2000 Series wt. prices
• 4000 Series wt. prices
• Transection
• Idler Transrail
• Brochures
• Pictures
• Specifications
• Summary



Order Online
2 Inch
4 Inch
• Information Request
• Product Literature
• Home
---
---

: | | | | | | Rotacaster | | |


Transwheel® is a Multidirectional Wheel for Conveyors and Robots
Transwheel At A Glance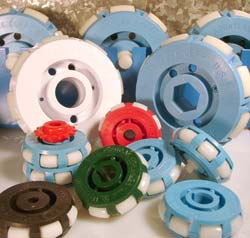 Lightweight wheels
High impact plastic
Self-lubricating
Low friction coating
Stainless steel axles
Washable even steam cleaning
Corrosion resistant


Applications

Conveyor wheels
Powered and manual applications
Multidirectional turn tables, see My Movie11Transtable.wmv
Robot wheels, see MinhoVideo.mpeg
Gravity flow
Carton flow
>> More Executive Summary

Unique Design
Transwheel's unique design has eight free-turning rollers positioned at 90 degrees to the axle around the Transwheel® periphery. Combine this movement with the rotation of the wheel body and you have the ability to move loads in any direction. This conveyor wheel is not only multidirectional, but with a keyway or sprocket option, it has the ability to be used as a powered conveyor wheel as well.

Powered Conveyor Wheels
Transwheel® is used as a non-powered and powered conveyor wheel.

Corrosion-resistant Construction
Transwheel's body, rollers, center axle and sprockets are high strength plastic. Outer roller axles are stainless steel with a low friction coating. This corrosion resistant construction permits steam cleaning, water immersion and outdoor applications. Self-lubricating properties eliminate the need for oil or grease.



Note: The double row 4000 series, 4202B model, Transwheels now come with an optional Nylon bushings, or the standard Polyethylene bushings.

Two sizes Available
Series 2000 Transwheels have a 2" OD and a 25 pounds / wheel load rating. Series 4000 Transwheels have a 4" OD and a 100 pounds / wheel load rating.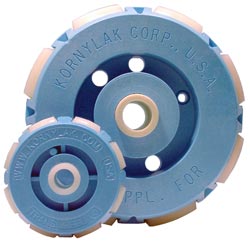 Various styles are available for standard and special applications. These include: plain bore, bushed, keyway bore, integral shaft, integral sprocket, caster, gravity rail, skatewheel section, powered rail (with either lateral or longitudinal movement) and power table. In addition, Kornylak will design and furnish special assemblies to suit your specific needs.

Many Applications
Transwheel® does the work of a caster without the locking and swinging problems usually experienced with swivel casters. Transwheels also make an efficient economical "ball table". They have larger contact points and the enclosed design keeps out foreign matter, prevents "freezing". See Transection.pdf

Other applications include: conveyor discharge or loading stations, packaging tables, appliance casters, transfers between angled conveyors, powered turns and powered multi-directional tables. Transwheel's exceptionally light weight is an important advantage for portable or aircraft equipment. See Idler Transrail.pdf

Exact Replacement for Skatewheel
Model 2051B Transwheel® has the same OD, bore and width dimensions as a standard skatewheel, so you can easily convert any section conveyor to multi-directional "ball table" or work station by substituting Transwheels, using the same axle rods and spacers.
Inserts Available
Call for details and sizing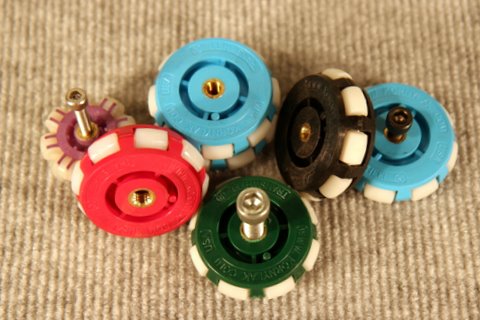 Order Kornylak Transwheels Online
---