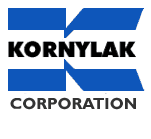 Kornylak Corporation
400 Heaton St.
Hamilton, OH 45011

PH: 513.863.1277
TF: 800.837.5676
F: 513.863.7644
Mini-Wheel® Lightweight, All Plastic, Conveyor Wheels
Mini-Wheel®


<< Back
• Brochures
• Specifications
• Summary



Order Online
• Information Request
• Product Literature
• Home
---
---

: | | | | | | Rotacaster | | |


Mini-Wheels® Lightweight Wheels For Carton Flow & Gravity Flow Conveyors
Mini-Wheel Carton Flow Wheels At A Glance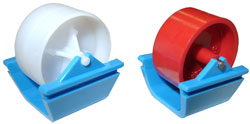 Versatile Applications

Carton flow
Gravity flow
Live storage applications
Order picking
Process conveyors & material handling
Light to medium weight applications


All Plastic Construction

Lightweight
Corrosion resistant
Non-rusting components
No lubrication
>> More Executive Summary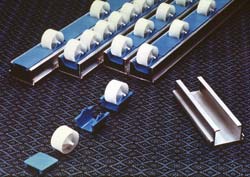 All Plastic Wheel Construction
The all-plastic construction of Mini-Wheel® components, i.e., the wheel, bearing bracket and spacer, are molded of high impact, low static engineered plastics making them virtually indestructible in normal use. The all plastic, non rusting components of Mini-Wheel® and the aluminum rail are corrosion resistant, permitting applications with exposure to weather, water, many chemicals, and steam cleaning. Mini-Wheels® are quickly and easily assembled. Their lightweight, self-contained wheel and bracket units, along with spacers, slide into standard aluminum extruded tracks or any sheet metal part to produce instant lightweight mini-conveyors. They can snap out just as easily for replacement or re-use in another location.

Extra Strong & Lightweight
The extra strong Mini-Wheel®, model JWA100, has a recommended working load rating of three pounds per wheel. Model JWA102 heavy duty Mini-Wheel® with a stainless steel axle has a load rating of twenty-five pounds. The remarkably light-weight Mini-Wheel® is all muscle, weighing in at just 0.017 lbs making it ideal for portable or aircraft applications.

No lubrication is required with Mini-Wheels®; they run dry and never need oil or grease.

Free running because of the unit's extremely low friction, the Mini-Wheel® runs smoothly, silently, and effortlessly. Requires only 0.3" per foot of slope for gravity flow of a solid bottomed object.

Many Applications
Mini-Wheel® has many applications. Mini-Wheel® systems are designed to handle light to medium weight packages, especially those too small for conventional conveyors. Their clean, attractive design can be utilized for live storage units, order picking racks, process conveyors, and transport conveyors - in such businesses and industries as: electronic components, baking, automotive components, candy making, printing and binding, textiles, cigarettes and many others.

Other Uses
Punches are readily available to facilitate the incorporation of Mini-Wheels® into such products as appliances and toys.



Order Kornylak Mini-Wheels Online
---