Palletflo®
Additional Info.


• Palletflo
<< Back
• Designing Rails
• Gravity Racks
• Wheels
• Accessories
• Brochures
• Case Study
• Pictures
• Video
• Specifications
• Summary
• Quote Request



Order Online
• Information Request
• Product Literature
• Home
---
---
Quick Find: More Conveyor Types | More Wheel Types
Palletflo : Accessories | Brochure | Case Study | Design | | | | | | Video |
Magic Pallet Flow Wheels For Live Storage Racks
Magic Wheels Use Elastomer Hysteresis Control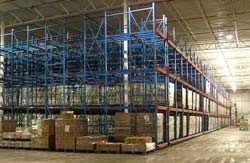 Palletflo® is a controlled gravity live storage system for pallet flow storage racks. Palletflo's design, coupling gravity with hysteresis control, results in immediate and long term cost savings. Because gravity is the power source, there are no belts, chains or mechanical devices to maintain; and because the "magic" of elastomer hysteresis controls the flow, there are no brakes, electronics, pneumatics or controls that require attention or maintenance that is associated with other pallet storage rack systems. Palletflo® installation is fast and easy and, with advanced planning, can be done while other operations continue. Once installed, Palletflo controlled gravity live storage systems require no maintenance.

The "Magic" of the Palletflo® wheel is an elastomeric hysteresis tire bonded to a heavy duty, corrosion resistant steel ball bearing wheel. Perfected after years of polymer development, the tire is composed of a high grade urethane polymer, which is resilient, energy absorbent and durable with high hysteresis properties.

The high hysteresis properties of the Palletflo® tire transform each wheel into a speed-controlling device. As the Palletflo® tire is deformed by the weight of the pallet, kinetic energy is given up as heat. The "hysteresis effect", (this loss of energy during the deformation cycle of the tire) causes each wheel to act as a retarder and stabilizes the forward speed of the load. The pallet moves through the system at a safe, controlled speed, as if by "Magic".

The Palletflo® tire is also weight responsive. Heavier pallet loads cause greater tire deformation, and greater retarding action, resulting in heavier loads moving slower than lighter loads. This property of the Palletflo® wheels allows pallet loads of varying weights to travel smoothly and safely in the same lane. The resilient Palletflo® wheel "adjusts" and permits irregular pallets to "roll through," so that each pallet continues to roll smoothly. This is another example of the "Magic" of Palletflo® wheels.


Standard Design Usage
| | |
| --- | --- |
| | The Black Palletflo wheels are designed for use in freezers. |
| | The Blue Palletflo wheels are designed for use in cool rooms. |
| | The Orange Palletflo wheels are designed for ambient temperatures. |
| | The Yellow Palletflo wheels are designed with NO hysteresis. These wheels can be used for push back racks, push-line systems and pallet entry zones. |
| | The Steel Palletflo wheels are designed for the pallet loading zone. |
Suggestions to improve our website: Survey
---